M&M machine centre

●    belt processing   ●   linear rail cutting    
Answering the market demands, we decided to establish our own machine center for the cutting of linear rails and the processing of belts.
Our main advantage is flexibility with professional service that ensures fast satisfaction of customer's needs. The machine center provides:
Custom made products (according to customer specifications),
quick response and accessibility,
high-quality processing and professional technical check-up.
BELT CUTTING AND PROCESSING
We guarantee you a precise, smooth and straight cut!
High sophisticated semi- automatic belt cutting machine, that has been designed for the needs of our company, allows precise cutting of timing (toothed), ribbed and flat belt sleeves. This enables automatic angle adjustment of axial tension and handling high voltage of the sleeve during the cutting. The length of a cut is adjusted from 130 mm up to 7.800 mm, while the wide goes up to 750 mm. Our equipment also enables cutting shorter belts from 130mm length up to 450mm width. The machine includes a special floating knife for ribbed belts with the possibility of changing the guide pulley of each belt profile, which enables a constant cut quality.
In our machine center we can cut high-quality belts -from world known manufacturers: Megadyne, Pix, Bando, Hutchinson, Steigentech and Optibelt – to your desired width, the same day your order is handed over.
We invite you to watch the video, which shows the precision of cutting.
BELT PROCESSING
We offer 100 percent weld power of a custom made PU belts of OEM quality!
We offer high quality custom-welded PU belts of OEM quality. Using a completely automated Megadyne welding machine, we can guarantee our customers a precise, 100 percent coverage of the weld. The highly sophisticated machine offers pre-prepared welding programs for each belt type and is suitable for welding belts with various types of belt coverings, such as NFT (PAZ), NFB (PAR), LINATEX, etc. It enables the regulation of temperature between the upper and the lower welding surface, welding pressure and processing time. Water cooling of the welded belts is carried out in similar controlled conditions. We offer processing of timing (toothed), ribbed (micro or poly-V), flat and joined belts of Megadyne and Steigentech producers.
LINEAR RAILS CUTTING CENTRE

Fast, professionally processed and hand-assembled to meet your requirements!
In our own Linear Center, we offer high-quality rail cutting to desired dimensions and cut-to-length equipment for linear technology according to specific customer requests. We are the right company if you are in the market for professionally processed linear shafts, guideway rails and ball screw spindles.
Besides cutting, we also assemble linear rails and blocks of required lengths. We equip them with grease guns as well as additional seals, which are preserved and packed appropriately. We also assemble ball screws and nuts. All linear technology parts from our Linear Center are professionally processed, corrosion-protected, appropriately packaged and dispatched at the shortest time possible.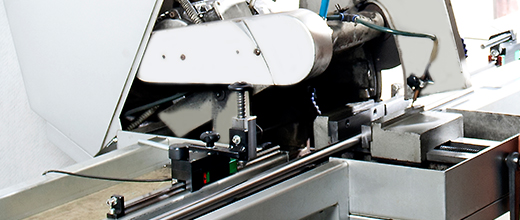 If you have any questions, please contact our experts at 00386 1 29 27 700  or send us an e-mail prodaja@mm-intercom.si.